Introducing Rasoi On Wheels
We have some very exciting news! After a great summer at Swansea Bays Pop-Up introducing our Rasoi on Wheels van to the people of Swansea, we have now made the much-anticipated decision to offer our van for wider catering events!
We are now able to offer authentic Indian catering with a modern fusion twist for events all across the country! So, whether you're looking to hire delicious, reliable catering for a wedding, private event, or party we're here to help deliver your guests a delicious selection of food they will love!
But, there's more, Rasoi Catering also provides everything from a buffet to a lavish sit-down meal to our amazing street food carts for your event so no matter what style you're going for we've got you covered.
WEDDINGS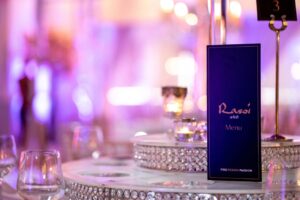 We understand how important your special day is, and how integral food is to the celebrations. Let our expert team of event coordinators and chefs prepare a meal that will make a lasting impression on you and your guests. Using only the finest ingredients, we will craft a menu perfect for your special day.
CORPORATE EVENTS
We can cater for your corporate event, conference or product launch. Treat delegates to an expertly prepared buffet, or sit down meal if you really want to impress. Get in touch for a bespoke menu.
SPECIAL EVENTS
Celebrate your special event in the beautiful atmosphere of Royal Plate. Exquisite & creative cuisine, friendly atmosphere and highly professional staff will make your special day beautiful & enjoyable. You can select from a couple of pre-made menus for every occasion that should please many different palates or work with us to create your own menu.
Your event will be in the best possible hands, with our experienced event coordinators on hand to ensure that everything runs smoothly. We can also organise your event for you, and arrange for our expert and professional event staff to serve you.
If you'd like to enquire or learn more about our catering services please get in touch today!